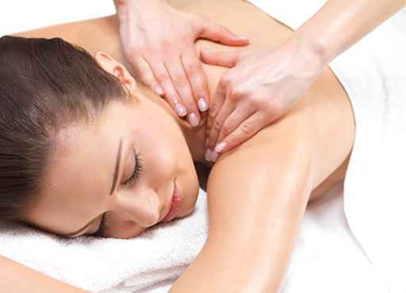 People use massage for a variety of health-related purposes, including pain relief, sports injury rehabilitation, stress reduction, enhanced relaxation, address anxiety and depression, and aid overall well-being.
We offer many different methods of massage, depending on your need.


Planning a visit to the spa?
Download our
Massage Intake Form HERE,
fill it out at home and bring to the spa on the day of your service. (Or, please arrive 10-15 minutes prior to your appointment time to fill it out at the spa.)
Signature Massage

Medium pressure massage incorporating warm towels to relieve tension and create a heightened sense of well-being.
1 hour $75 1 1/2 hour $105
Personalized Massage

A massage catered to your problem areas and relaxation needs.
1/2 hour $50 1 hour $75 1 1/2 hour $105
Swedish Massage
Medium-to-light pressure massage to relieve tension and stress.
1/2 hour $45 1 hour $70 1 1/2 hour $95
Deep Tissue Massage
This technique works deeply into the muscles to relieve regions of chronic discomfort.
1/2 hour $50 1 hour $80 1 1/2 hour $110
Pregnancy Massage
Designed specifically for pregnant women to help relieve common pregnancy discomforts and promote mother and baby's well being. Appropriate for those beyond the first trimester.
1/2 hour $50 1 hour $80 1 1/2 hour $105
Cupping Massage
Cupping is an ancient form of alternative medicine using negative pressure, which helps with circulation, joint pain and inflammation, detoxification, relaxation, decreases fine lines and wrinkles, and improves overall well-being.
1/2 hour $50 1 hour $80
Add Cupping therapy to any massage $15
Stone Therapy Massage

The ultimate in muscle relaxation. The warmth of the stones assists in the transfer of deep heat throughout the body.
1 hour $100 1 1/2 hour $150
Foot Reflexology

Relief for tired and aching feet. Reflexology uses massage and thumb pressure on the feet to soothe and energize the entire body.
1 hour $60, with Pedi $95
Aromatherapy Massage

Relax and rejuvenate your body and senses with scented essential oils derived from plants and flowers.
1 hour $100 1 1/2 hour150
Herbal Massage Therapy

Experience a unique massage with a synergistically blended recipe of healing herbs in a streamed muslin pouch pressed along the body's energy lines. Incorporated into a traditional massage, the aromatic and soothing herbs are absorbed into the body, relaxing aching muscles, reducing stress and inflammation, increasing circulation, and improving the appearance of your skin.
1 hour $120.00 1 1/2 hour $175.00