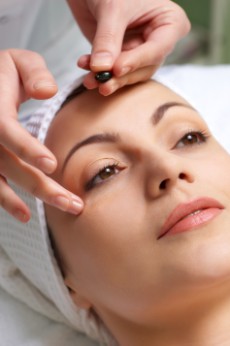 We use Repêchage products, producing remarkable health and beauty benefits from seaweed, simply the world's most effective formulas for skin care.
Excessive dead skin cell build-up can lead to poor functioning of the skin, which can lead to wrinkles, fine lines, premature aging, and breakouts.
Our paramedical grade facial products can treat and help prevent many skin conditions and concerns.
Our expert estheticians will evaluate your skin and customize a series of facials to meet all your needs, giving your skin the best result possible!
Planning a visit to the spa?
Download our
Facial Intake Form HERE
,
fill it out at home and bring to the spa on the day of your service. (Or, please arrive 10-15 minutes prior to your appointment time to fill it out at the spa.)


Reflection Facial
Our house specialty is designed to make you look and feel great. Specific products are used to gently cleanse and exfoliate the skin, followed by a mask and moisturizers to help restore balance to the skin. This luxurious treatment includes a hand, foot and decollete massage.
$115


Ultimate Anti-Age Skin Rejuvenation
Take years off your skin with this revitalizing treatment, The combination of microderm, 4-layer mask, plus lip and eye treatments addresses all your skin aging concerns.
$320
Gentleman's Facial


Designed specifically with our male clients in mind, to help his skin recuperate from climatic changes, daily shaving and stress.
Power Peel - Microdermabrasion


Whisk away dull skin and even skin tone with microdermabrasion. Lessen lines and wrinkles along with reducing acne scarring and hyperpigmentation.
$170

4 Layer Facial (Anti-Aging/Firming)


Our premier facial treatment. Experience layer upon layer of pure, fresh European seaweed to help rejuvenate, tone and firm the appearance of the skin dramatically. Enjoy a cool seaweed mask, followed by a mineral-rich thermal mask that allows for total relaxation and wow results. Skin is cleaner and younger looking. See the difference!
$140
Anti-Aging Facial
This facial is used to lessen the looks of fine lines and wrinkles. Dead skin cells are removed, and the finest European seaweed products used to help the skin appear brighter and more firm.
$115


Acne Facial
A deep-pore cleansing treatment that purifies and controls existing breakouts while helping to prevent new ones from forming with extended extractions. This treatment reduces oil from overly active sebaceous glands while maintaining the skin's moisture balance. This pure and refining facial allows deep cleaning while soothing and healing lesions, leaving skin with renewed freshness and purity.
$95
European Facial
A popular, effective treatment to deep cleanse the skin, exfoliate dead skin cells and replenish the skin's moisture. Step into total relaxation and rejuvenation with this popular facial treatment.
$85 -with upgrade to Vitamin Mask - $100
Mini Facial - (Great for teens, too!)
A quick "pick me up" facial treatment. Relax while we cleanse and exfoliate to take away every day stress.
$60

Red Out Facial



Combined with a blend of vitamins, minerals, trace elements, amino acids and anti-oxidants in seaweed, this treatment is formulated to reduce redness from rosacea, sun damage and acne inflammation; the ideal environment for sensitive skin.
$115


Back Facial

Pamper your back with the same customized skin care that leaves your face radiant. Deeply cleanse, exfoliate, and relax tired back muscles with the warmth of steam and warm towels. Enjoy a relaxing leg and foot massage as your hydrating, purifying mask removes impurities. Leave with rejuvenated, touchable skin.


$90


Opti-Firm Eye Contour Treatment

Decreases dark circles, puffiness and wrinkles.

$55
Eye & Lip Treatment
This collagen rich treatment targets fine lines and puffiness, leaving eyes and lips refreshed and renewed.
$60

Add Neck and Decollette

$55

Professional Affiliate Partner